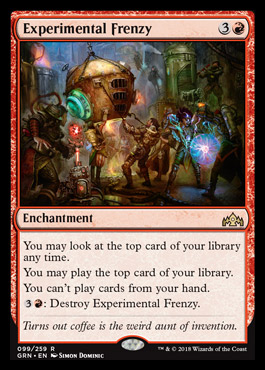 Experimental Frenzy
3R
Enchantment
You may look at the top card of your library any time.
You may play the top card of your library.
You can't play cards from your hand.
3R: Destroy Experimental Frenzy.
Well it's a cheaper, REB-immune, more splashable Future Sight where you don't reveal your top card. I love it.
The drawback isn't irrelevant though, but I believe this is a more playable card in Vintage than Future Sight, which sees fringe play, I know, but anyway.
This is a card that can be played in a lot of different decks, Storm for example, where Future Sight could not - it's a nonbo with Bargain, for sure though.
last edited by fsecco